The Challenge
Applying the scientific method to tackle malnutrition in expectant mothers and children in India – a very real world problem. The Foundation chose malnutrition as the topic as it has been one of India's most persistent challenges.
Our Goal
Nearly half of all deaths in children under 5, across the world, are due to malnutrition. 40% of children in India suffer from malnutrition. Less than 50% mothers and children in need have access to interventions that could help them even when there are policies and programs in place.
The ISF Nutrition Challenge, with The New York Academy of Sciences, was about real technology helping real people. By challenging students to address a dire social problem we were addressing multiple objectives
Getting a fresh perspective on the issue while asking for innovative solutions to it;
In keeping with our mission, asking solvers to draw on their STEM skills to find a potential solution;
Helping students to perhaps develop a sense empathy for peers affected by the problem.
Resources
The participating teams were mentored by the best teachers and scholars. They had access to experts in the fields of nutrition and STEM. They leveraged a series of curated learning resources and TEDx-style talks by leading experts.
The Winning Solution
Team Podible
Tackling malnutrition in expectant mothers and children in India
Podible's winning solution involved
Distributing a dissolvable nutrient pod to Anganwadi centers (a type of rural child care center found throughout India) and state-run canteens
Registering users to a cloud-based SMS platform so they receive educational alerts
Educating the Anganwadi heads about pod usage and the public about nutrition
The pod can be used as a supplement for midday meals and provides one-third of the daily RDA of iron, zinc, omega-3, folate and calcium. A single pod is capable of supplementing 50 midday meals and is simple to use.
The team used this existing product idea and created a smart application and delivery mechanism, so it reaches the target audience directly through the wide network of Anganwadis in the country.
Meet Team Podible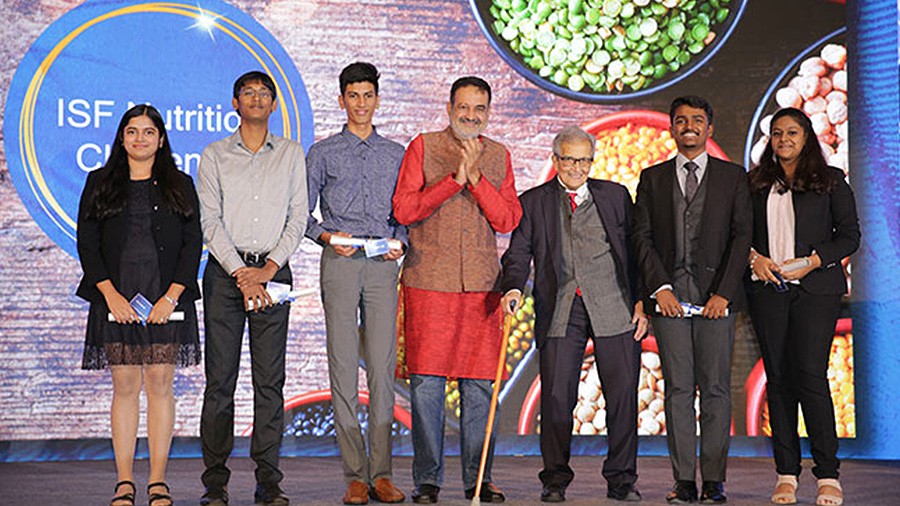 Winners: Team Podible | Leelasri Jay, Prithve Kiran Shekar, Sandeep Rao, Arunima Sen, Kesava Kirupa Dinakaran with Amartya Sen
Runners Up
Team Nutri-App
Nutri-App's solution was based on the premise that it is not lack of schemes but problems with implementation that compounds the problem of malnutrition. The team used the power and reach of technology to make the nutrition delivery system more effective by creating an e-food coupon to provide food directly to the beneficiaries. Their solution uses technology at policy level to create a holistic database of beneficiaries and technology at delivery stage for last mile effectiveness.
Meet Team Nutri-App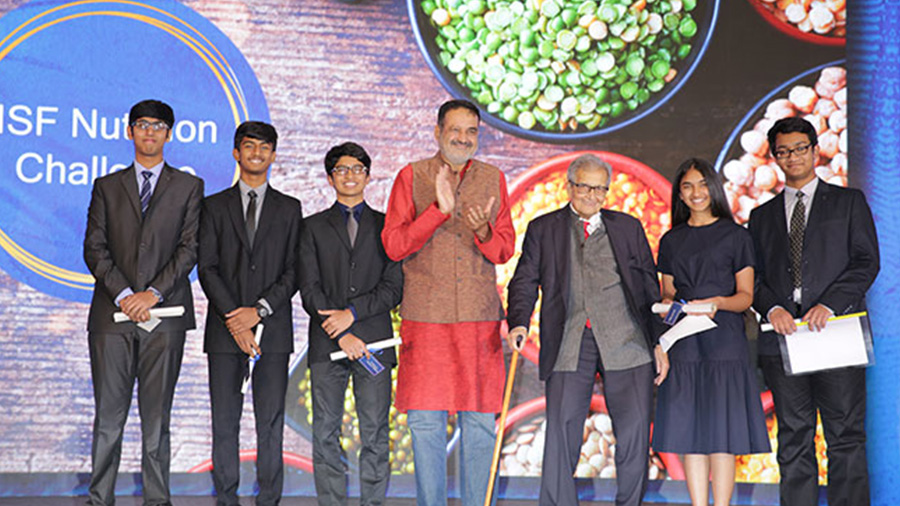 Runners-up: Team Nutri-App | Aarzoo Kaveri Sen, Arnab Mishra, Pradhyumna Hayagriva Kadambi, Pratham Tikkisetty, Sumvith Kiran with Amartya Sen
ISF Innovation Challenge winners and runners-up talk about their proposed solution
The Impact
Over 3000 students from around the country participated in the challenge. The teams collected data, formed hypotheses and tested them to come up with a plan that could be simply executed to tackle a real world problem – much like a scientist might.
The Prize
The top two winning teams visited the Indian Space Research Organization (ISRO) at Sriharikota and had the exclusive opportunity to witness the launch of a PSLV rocket. They were also awarded membership to The Junior Academy of the New York Academy of Sciences in Fall 2019 . In addition, each member of the winning team received an education scholarship of INR 5 lakh.
---

---