The Infosys Prize for Humanities — History is awarded to Professor Sanjay Subrahmanyam for his path-breaking contribution to history. He is an outstanding scholar of early-modern (1500-1800) South Asian history. He has been able to develop a new genre of 'connected history,' involving persons, products, and social and political processes stretching from Melaka in the East to Portugal in the West.
Infographic:
What are the chances?
Prof. Subrahmanyam has transformed the field of early modern history for South Asia, and one could argue, for much of the rest of the world. His geographical reach extends from South Asia to Southeast Asia, West Asia, Europe and Latin America. He has contributed to a wide array of historical sub-disciplines (economic, social, intellectual and even literary history). He has published or co-published 25 books and nearly 200 articles. His linguistic expertise is commendable; as he writes in three languages, lectures in five, and does research in nearly a dozen.
An important contribution of his was to demonstrate the need to transcend the walls that have immured the histories of Asian nations for the past century. Nowhere is this argument more insistently presented than in his two-volume, Explorations in Connected History. This publication demonstrates through an array of striking examples, how thinking beyond boundaries uncovers the actual linkages that have joined the countries of Eurasia, in times past.
In Penumbral Visions, he explores the world of power of early modern South Asia, showing how political structures and cultures were transformed. He has also used the individual life as a window onto major movements of history. His Career and Legend of Vasco da Gama deploys bravura archival research to separate myth from legend and offer a new, global view of European expansion. His recent publication, Three Ways of Being Alien, demonstrates how foreigners with all their prejudices and misgivings could move through alien cultures intelligently and often successfully. His works offer lessons from early modernity to late modernity.
Sanjay Subrahmanyam is Distinguished Professor of History, and Navin and Pratima Doshi Endowed Chair in Pre-Modern Indian History in the University of California at Los Angeles, U.S. He earned his Master's degree in Economics (1982) from the University of Delhi and a Ph.D. (1987) from the Delhi School of Economics. He is Professor and Doshi Chair of Indian History at UCLA since 2004. His past appointments include Chair in Indian History and Culture at the University of Oxford (2002-04), Directeur d'études at the Ecole des Hautes Etudes en Sciences Sociales (1995-2002) and Professor of Economic History (1993-95) at the Delhi School of Economics. He was the founding Director of UCLA's Center for India and South Asia (July 2005 to June 2011).
He was elected to the American Academy of Arts and Sciences in 2009. Bryn Mawr College in Pennsylvania selected him as the 2009 Mary Flexner Lecturer. He is the Joint Managing Editor of the Indian Economic and Social History Review and is on the editorial board of the Cambridge History of the World.
1982-1987
1982-1987
B.A. (History), University of Delhi; M.A. (Economics)
University of Delhi; Ph.D. (Economics), Delhi School of Economics
1990
1990
Publishes The Political Economy of Commerce: Southern India, 1500–1650
1995
1995
Appointed Directeur d'études at the Ecole des Hautes Etudes en Sciences Sociales
1997
1997
Publishes The Career and Legend of Vasco da Gama
2001
2001
Publishes Penumbral Visions: Making Polities in Early Modern South India
2004
2004
Appointed Navin and Pratima Doshi Chair in Indian History at UCLA
2005
2005
Becomes founding director of UCLA's Center for India and South Asia
2009
2009
Elected Fellow of American Academy of Arts and Sciences
2012
2012
Wins the Infosys Prize in Humanities
2016
2016
Elected Fellow of the British Academy
2019
2019
Publishes Empires Between Islam and Christianity, 1500-1800; and wins the Dan David Prize for History
1982-1987
1990
1995
1997
2001
2004
2005
2009
2012
2016
2019
Prof. Subrahmanyam is an outstanding scholar of early-modern (1500-1800) South Asian history. His ground-breaking work recaptures the real dynamism that marked an epoch, which had often been wrongly viewed by early historians as 'stagnant.'
He brings to his research work, unparalleled command of archives in Europe, the Middle East, and India, along with vast reading of primary and secondary texts in nearly a dozen languages.
He has authored, co-authored and edited over 25 books and scores of articles, which have been translated from Portuguese, Spanish, French and Italian, to Chinese and Japanese. The impact of his works has been felt across disciplines.
First Reaction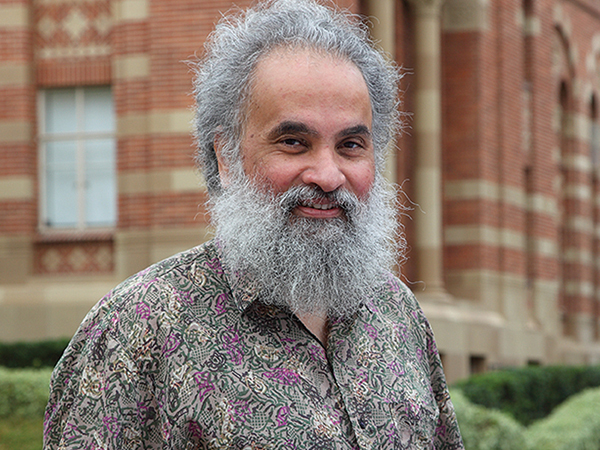 Prof. Sanjay Subrahmanyam reacts to winning the Infosys Prize
"Sanjay brings to history a totally innovative and new perspective and his concept of connected history, linking up various aspects of historic detail that we have to make a coherent story out of it. I think that has been a remarkable achievement and he has continued to produce work of the greatest of value and has inspired young historians greatly."
AMARTYA SEN