The Infosys Prize 2013 in Humanities – Linguistics is awarded to Prof. Ayesha Kidwai for her exceptional contribution to the field of theoretical linguistics. Her research on syntactic relations in Hindi-Urdu has related wider debates in linguistics to the study of Indian languages and has extended our understanding of India's linguistic diversity.
Infographic:
Discovering The Intricacies Of Indian Languages
Prof. Kidwai's research ranges around a wide variety of syntactic topics, united by a preoccupation with the properties and effects of optional displacement operations in Universal Grammar.
Universal Grammar is the radical hypothesis, put forth five decades ago by Noam Chomsky, that the innate human linguistic ability is a domain-specific intelligence that must be modeled as a distinct Faculty of Language. This innate endowment, a system of principles and parametric options, forms the basis for the human knowledge and acquisition of any natural language, and is the source for both the relatedness of and differences between human languages. Prof. Kidwai's contributions to the field have been the study of the principles and parameters that must be hypothesized to explain the syntactic properties of a number of South Asian languages, including Hindi-Urdu, Bengali, Malayalam, Meiteilon and Santali.
The phenomenon of free word order found in many languages of the world – 'scrambling'– raises many intriguing questions for Universal Grammar, as such word order variation is apparently optional, and therefore difficult to characterize by grammatical rules. Prof. Kidwai's work in this intensively studied and debated domain proposes a novel theory of how the referential properties of scrambled noun phrases in Hindi-Urdu may be characterized once the discourse effects of these optional variations are taken into account. These proposals have had important implications for the hypothesized design of Universal Grammar as well as the displacement operations conjectured to be central to it.
Recently, Prof. Kidwai also distinguished herself as an ace translator, having rendered Anis Kidwai's moving Urdu memoir of the aftermath of partition, Azaadi Ki Chaon Mein, into English, In Freedom's Shade.
Prof. Ayesha Kidwai completed her M.A. and Ph.D. in Linguistics from Jawaharlal Nehru University. Her research interests include linguistic theory, with particular reference to the (generative) syntax and morphology of Indian languages, philosophy of language, gender and language, the politics of English, and the evolution of language. Her current research interests include the syntax of finite complementation and the properties of adjunction in natural language.
She has authored several papers and a few notable books such as XP-adjunction in Universal Grammar: Scrambling and Binding in Hindi-Urdu, and In Freedom's Shade, an English translation of Anis Kidwai's Urdu memoir Azaadi Ki Chaon Mein.
1995
1995
Publishes Binding and Free Word Order Phenomenon in Hindi-Urdu
2000
2000
Publishes Xp-Adjunction in Universal Grammar: Scrambling and Binding in Hindi-Urdu
2004
2004
Translates from Urdu into English, Anis Kidwai's In the Shadow of Freedom
2013
2013
Wins the Infosys Prize in Humanities
2023
2023
Elected Corresponding Fellow, British Academy
Prof. Ayesha Kidwai is an outstanding theoretical linguist. Her work has earned recognition from leading international experts, as it relates the general theoretical framework of the principles of Universal Grammar to some of the particular syntactic features of Indian languages like Hindi-Urdu, Santali, Meiteilon, Bangla and Malayalam, analyzing these within the structures of human cognitive systems and their general properties.
Central to these achievements is Prof. Kidwai's work on a wide range of adjunction phenomena. On the intensively studied and debated syntactic phenomenon of 'scrambling', her work proposes a novel theory of binding in extensive analytical investigation of Hindi and Urdu.
Prof. Kidwai has helped raise the respectability and significance of the field of theoretical linguistics by providing leadership and mentorship to young linguists in India. She has consistently stressed on the political and cultural importance of the study of India's linguistic diversity.
First Reaction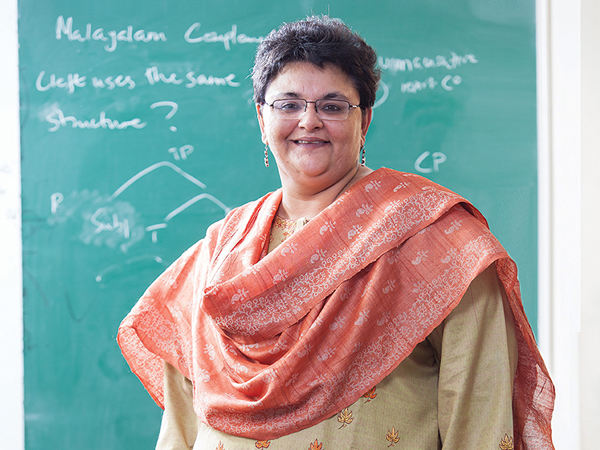 Prof. Ayesha Kidwai reacts to winning the Infosys Prize
"It's wonderful for me to have the opportunity of congratulating Prof. Ayesha Kidwai for the extraordinary work she does on theoretical linguistics. India is a country of many languages and she has been able to use her general skills to find ways and means of studying the languages with the kind of international global understanding. That is one of the delights of contemporary linguistics. Totally delighted to be able to count on her being part of the community of scholars that we are honoring through this annual giving of prizes"
Amartya Sen