The Infosys Prize 2013 in Humanities – Archaeology is awarded to Prof. Nayanjot Lahiri for her outstanding contribution towards the integration of archaeological knowledge with the historical understanding of India from the earliest times. She is an exceptional scholar of proto-historic and early India. Her wide-ranging work on the past and present illuminates many aspects that include contemporary Indian society.
Infographic:
Unearthing The Mysteries Of Ancient India
Prof. Nayanjot Lahiri's research biography begins with a historical analysis of the ancient inscriptions of Assam (1991), which remains unparalleled in quality. Her work on resource mobilization and routes of access in proto-historic and early historic India (1992) deals with archaeological and historical data, and their geological dimensions and integration into the ethnographic aspects of their distribution.
She edited a volume on the decline of the Indus civilization and co-edited a special issue of World Archaeology, on the archaeology of Hinduism. She provided insight on Indian copper–bronze metallurgical data by using ethnographic and historical insights relating to the practices and traditions of metal craftsmen in the past.
A major offshoot of Prof. Lahiri's archival research in the history of archaeology is a detailed focus on the monument policy of British and independent India. One of her enquiries identified how Bodh Gaya was converted into a single religious site, in the late 19th and early 20th centuries, and through that process effectively lost its multi-cultural status. This is an important clue to understanding many archaeological sites of religious significance in India.
Prof. Nayanjot Lahiri's qualifications include a M.A., M.Phil. and Ph.D. in History from the University of Delhi. Her research interests include Indian archaeology, archeological theory, heritage studies and ancient India.
She has several research papers and publications to her credit. Prof. Lahiri has authored many books such as Finding Forgotten Cities: How the Indus Civilization Was Discovered, The Decline and Fall of the Indus Civilization, The Archaeology of Indian Trade Routes (up to c. 200 B.C.) and Resource Use, Resource Access and Lines of Communication and Pre-Ahom Assam: Studies in the inscriptions of Assam between the fifth and the thirteenth centuries A.D.
Her prior appointments include Lecturer at the Department of History, Hindu College, University of Delhi (1982 – 1993) and Reader at the Department of History, University of Delhi (1993 – 2001).
1979-1991
1979-1991
B.A., University of Delhi; M.A. (History), University of Delhi; M.Phil. (History), University of Delhi; Ph.D. (History), University of Delhi
1992
1992
Publishes The Archaeology of Indian Trade Routes
2001
2001
Joins University of Delhi as Professor of History
2013
2013
Wins the H. H. Mathur Award for Excellence in Research in Applied Sciences, IIT Bombay; Wins the Infosys Prize in Humanities
2016
2016
Wins the John F. Richards prize for her book Ashoka in Ancient India; Awarded the John F. Richards Prize of the American Historical Association
1979-1991
1992
2001
2013
2016
Prof. Nayanjot Lahiri has researched on diverse themes, and in each case, her emphasis has been to look at the details of the related historical universe and to ascertain how, if at all, the historical picture conveyed by archaeology is reflected in later contexts and traditions. She uses a large variety of sources to analyze the relevant data, and one of her academic achievements has been to add a rich ethnographic perspective to her study of trade and metals. These studies gained further depth from the author's close understanding of the geography and geology of the concerned areas.
Ethnography, geography, geology all add to the rich historical texture of Prof. Lahiri's archaeological studies. In the case of the history of Indian archaeology her knowledge of the sources, including their socio-political nuances, is thorough and impeccable. The impact of Prof. Lahiri's research has gone a long way to establish the discipline of archaeology as an integral part of the broader world of historical and social science research.
First Reaction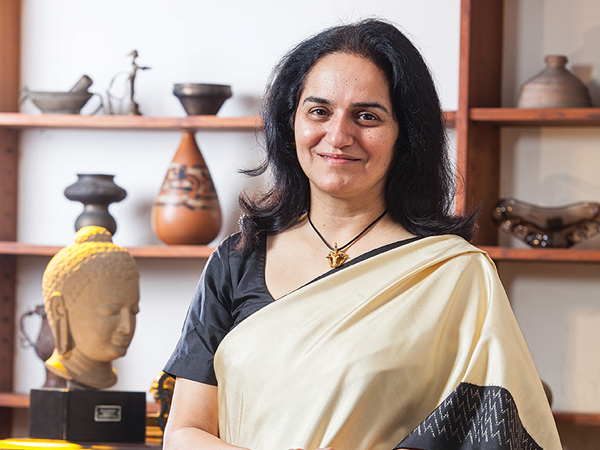 Prof. Nayanjot Lahiri reacts to winning the Infosys Prize
"I am delighted to be able to join Narayana Murthy in congratulating Prof. Nayanjot Lahiri for winning the Infosys Prize for Humanities in the field of archaeology. She is one of the leading archaeologists in the country with very innovative work stretching back from the early days when she was working on the early history of ancient inscriptions of Assam. She has brought to light an understanding of ancient Indian history drawing on archaeological records and historical records and linking them in a way that has transformed the subject"
Amartya Sen