The Infosys Prize 2021 in Engineering and Computer Science is awarded to Dr. Chandrasekhar Nair for his development and large-scale commercialization of Truenat, a new point-of-care testing platform for PCR-based medical diagnostics. Dr. Nair's work has enabled testing for millions of COVID-19 cases across resource-limited settings in India and the diagnosis of multiple infectious diseases including tuberculosis all over the world.
PCR (Polymerase Chain Reaction) based testing is a Nobel Prize-winning technology that has become the gold standard for testing many infectious diseases such as tuberculosis, dengue, chikungunya, H1N1, and hepatitis. However, the cost and workflow complexity of PCR testing platforms have restricted their use to sophisticated labs. Dr. Chandrasekhar Nair has created a battery-operated, rugged, field usable PCR device that can be deployed at scale in resource-limited settings. The platform comprises a portable machine and disposable cartridges enabling point-of-care testing for early detection for many diseases. Dr. Nair has achieved what many global competitors have been struggling to do for over two decades.
Dr. Nair's Truenat platform was originally developed for tuberculosis screening where it made it possible to reduce the diagnosis window from six months to three weeks after appearance of symptoms, enabling directed treatment at the onset of infection and reducing community spread of a disease that claims one death every minute in India. When the COVID-19 pandemic hit, India was able to use Truenat to increase its testing capacity from 100 to over 4000 locations, primarily in states with poor access to medical infrastructure. By now eight million COVID tests have been performed on Truenat. It also leverages India's mobile network for automatic data rollup to National Programs and enables detection of areas where diseases first appear.
Truenat is currently being deployed in ten resource-limited countries across Africa, Latin America, and Asia. It represents the kind of innovative hardware product that will enable Indian technology companies to succeed on the global stage.
Dr. Chandrasekhar Nair is the Co-founder & Chief Technology Officer of Molbio Diagnostics, one of India's leading healthcare companies in the In-Vitro Diagnostics (IVD) segment and the manufacturer of the renowned molecular diagnostic platform Truenat® Real-Time PCR. He is also the founder of Bigtec Labs, a fully-owned subsidiary of Molbio Diagnostics.
Dr. Nair completed his B.E. (Hons) and M.E. in Chemical Engineering (1985-1991) from the Birla Institute of Technology and Science, Pilani. He obtained his Ph.D. in Bio-MEMS (Biomedical Microelectromechanical Systems) from the Vellore Institute of Technology in 2016.
A scientist at heart, Dr. Nair is deeply interested in the translational impact of technology on public health. He is an experienced team leader with a demonstrated history of translating laboratory research to commercial products during his stints at Vittal Mallya Scientific Research Foundation (1991-2000) and later at Bigtec and Molbio (2000-current).
In his spare time, Dr. Nair likes to reach ancient Indian literature.
1985-1991
1985-1991
B.E. (Hons) Chemical Engineering, BITS- Pilani; M.E. Chemical Engineering, BITS-Pilani
1991
1991
Appointed Head of Engineering and Computer Sciences at Vittal Mallya Scientific Research Foundation
2000
2000
Co-founded Bigtec Labs & Molbio Diagnostics
2016
2016
Awarded Ph.D. , Vellore Institute of Technology
2021
2021
Wins Infosys Prize in Engineering and Computer Science
1985-1991
1991
2000
2016
2021
Dr. Chandrasekhar Nair has led the development of a platform technology that enables PCR testing at the point of care. The Truenat Real-Time PCR, is now the only point-of-care platform approved by WHO for tuberculosis detection, globally.
The primary technical innovations responsible for the success of the Truenat platform include the development of low-temperature cofired ceramic-based cartridges that allow for rapid thermocycling and fast PCR reactions, and plastic cartridges that allow for integrated sample preparation. Different diseases can be tested by just changing the cartridge and tests for more than thirty diseases have already been developed.
For twenty years Dr. Nair has worked with India's nascent medical device manufacturing ecosystem to eventually set up state-of-the-art facilities to manufacture high-precision plastic test consumables. The platform has been field validated in multiple countries by independent agencies like Foundation for Innovative Diagnostics, Switzerland and leading infectious disease centres.
First Reaction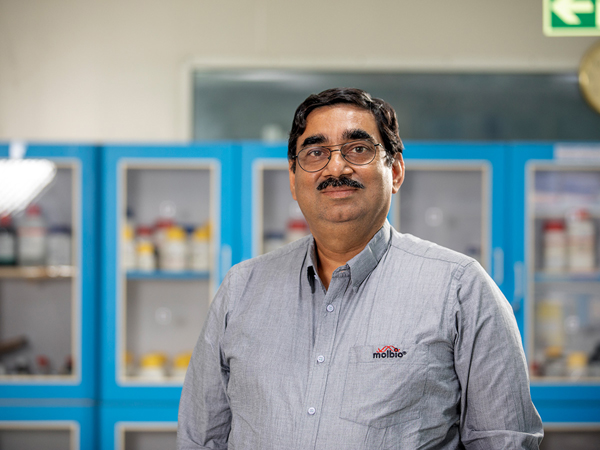 Dr. Chandrasekhar Nair reacts to winning the Infosys Prize
"I am pleased to congratulate Dr. Chandrasekhar Nair for winning the Infosys Prize in Engineering and Computer Science this year. Dr. Nair was chosen from among many outstanding nominations from both academia and industry by a jury of international experts. The jury chose him for the impact his work would have, and has already had, in the realm of rapid testing and early diagnosis of several diseases, including Covid-19 and Tuberculosis, in resource constrained countries. His development and successful deployment at scale of Truenat, a new point-of-care testing platform for PCR-based medical diagnostics, is the hallmark of innovation and true engineering."
Arvind